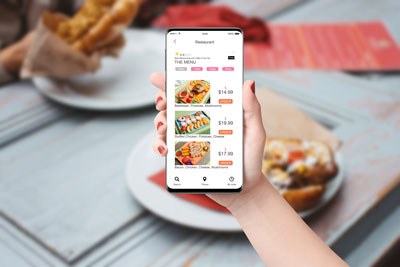 Menus & Websites: The Perfect Match
All restaurant owners and operators know their menus matter and some have amped up online promotional efforts with websites as well. Today, we're going to focus on the value of having a great-looking, easy-to-navigate, customer-friendly website that matches your menu as well as your overall brand.
Having an engaging, functional website can enhance your business with everyone "living" online nowadays – including your existing customers as well as new customers. Building a cohesive website that contains your correct current info, menu pricing, images, logo, and artwork takes a lot of work. Not to mention creating a mobile-friendly site – a web design that translates to something that looks as good on a smartphone as it does on a tablet, desktop computer, or laptop. Research shows a majority of people use their phones to go online, so a mobile-friendly site is a must! You'll also benefit from the ability to send and receive emails coordinating with your website address (your "URL"). For example, This email address is being protected from spambots. You need JavaScript enabled to view it. or This email address is being protected from spambots. You need JavaScript enabled to view it. immediately identifies your business. While Gmail, Yahoo, and other providers are great for personal email, you'll want to continue to build on your brand and image with a custom business address.
Despite the arduous amount of work required, a website can take your establishment to the next level. So, what's a busy restaurant owner to do when hiring a web designer or consulting firm is not an option? Enter your expert menu company with a lot more capabilities than you may realize -- in this case, MenuWorks.
That's right, in addition to creating your appealing, well-structured menus, MenuWorks' experts can build a unique website template expressly for your establishment. We already have your logo, images, menu selections, and pricing right in our electronic files, and we have a full, experienced design and implementation team to create your professional online presence based on your current or new look. Our professionals can provide guidance on what pages you need, help determine what content belongs on them, provide copywriting services, and make the entire process a breeze. Along with developing a smart, cost-effective, highly efficient website, we can furnish you with web hosting and email services, plus make any necessary updates, as needed, or at the same time, we update your menus.
Best of all, MenuWorks already possesses a deep understanding of your business, your menu, and what makes your restaurant unique, so our in-house team can readily convey this with a beautiful, professional website that speaks to your current and prospective customers. To simplify getting started, we even include your first year of domain registration and web hosting in our low package pricing. A modest renewal fee applies to subsequent years, making this an affordable, turnkey solution that puts you online, professionally, and hassle-free.
Let our web savvy team help build your online presence. MenuWorks creates winning websites that work in tandem with the menus and brand images of restaurants of all sizes. To learn more about having our web experts create an attractive, affordable, user-friendly website with our streamlined process, contact one of MenuWorks' experienced account managers.