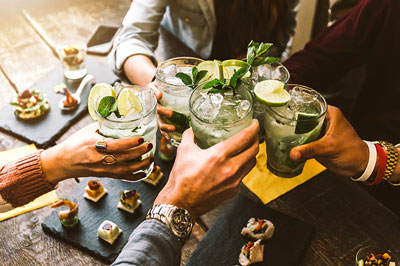 Summer Drink Menus: Get Ready to Sip Up the Sales!
Cheers to summer! Warmer weather means cool, refreshing specialty drinks. Whether crafted with alcohol or non-alcoholic, it's essential to promote all your seasonal specialties in an attention-getting manner so you can increase your summertime guest checks.
Creating your fabulous summer specialty drinks – complete with catchy names, of course – is only half the equation. Selling them with an appealing and effective drink menu is the other half. Besides determining proper price points for your customers, the way your menu looks and reads is of utmost importance, along with showing off those cool concoctions with crisp photos to enhance your menu (and sales) further still.
Let's review a few key ways to get your breezy beverages into the hands of customers.
Recommended pairings with popular menu items
Drink specials offered during specific days of the week or at different meal times (i.e., brunch)
Educating your staff on up-selling customers with drinks that will complement their meal or summer cocktail hour experience
Great looking drink menus that entice and speak to your customers
Naturally, your physical menu is the optimal way to promote your specialty drinks, so let's look at ways to execute a functional, winning menu that garners a return on your seasonal investment.
POP-IN-PAGES: Offering flexibility for seasonal menus, pop-in pages simply pop in and out of your coil-bound menus, enabling you to feature your summer specialty drinks by incorporating them right into your main menu. Design them with a tab, a die-cut curved side, or a narrower page width to allow them to stand out from your regular menu pages. Pop-ins are super effective and easy to integrate into your existing menu so your summer cocktails, frozen drinks, and more get your patrons' attention as they peruse the pages.
TABLE TANKS (aka TABLE TENTS): Placed right on the tabletop, table tanks (MenuWorks' superior, durable take on the classic table tent) are not to be missed and offer a great way to get your specialty drinks right in front of your customers' eyes from the moment they're seated, presenting them with refreshing ways to immediately cool off and chill out.
FLAT MENUS: Available in an array of sizes and die-cut shapes for added impact, flat menus can be handed out separately or slipped inside your standard menu, giving customers the scoop on your summer specialty drinks from cocktails to smoothies; whatever selections best reflect your establishment.
Offering your customers the refreshing drinks they want and need during the long hot summer satisfies their thirst and increases your revenue. If you haven't already created your summer drinks menu, you can still plan, design, and print just in time to beat the heat!
Make a splash with your specialty drinks this summer. MenuWorks creates winning specialty drink menus, inserts, and table tanks for restaurants of all sizes. To learn more about how we can provide turnkey services and expertise, including menu design and expert insights, contact one of MenuWorks' experienced account managers. Be sure to request a sample pack of specialty drink menus, including ones created by our expert in-house design team, for reference and inspiration.