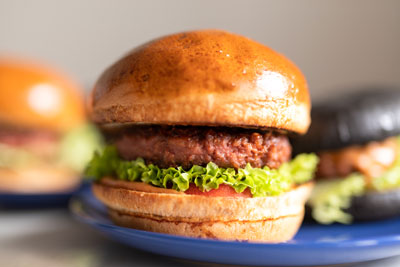 Menu Update: The Increasing Popularity of Plant-Based Foods
Plant based foods are everywhere these days. Naturally appealing to non-carnivores, even meat eaters are digging in, trying something different and discovering new alternatives that taste good. Are you ready to offer tasty plant based options at your restaurant and get in on this growing trend? Let's take a look at some interesting stats, see what restaurants have been serving alternatives, and explore this burgeoning market.
Data shows significant growth of plant-based alternatives as they gain momentum in the restaurant space. Meat alternatives are now a $14 billion market, according to the 2021 Q3 Market Report: Alternative Proteins compiled by Tastewise, an AI platform providing food brands with data-driven insights. The Food Institute reviewed the report and highlighted some intriguing numbers, revealing that restaurant menus across the United States are expanding into the alternative meat market with a 1320% increase in menu mentions since before the pandemic. From May 2020 to July 2020, there was a 158% uptick in menu mentions of vegan meat nationwide, largely due in part to Starbucks' June 2020 addition of its Impossible Breakfast Sandwich.
Other studies noted the significant growth as well. Data compiled by NPD Group revealed restaurants around the country are serving more plant-based meat alternatives. According to NPD's SupplyTrack, reporting on products shipped by leading distributors to over 700,000 restaurants and foodservice outlets, shipments of plant-based proteins grew 60% in April 2021 compared to April 2020 and 16% in April 2019.
Although plant-based meat replacement shipments have surged since the pandemic, the increase actually began more than a year before, based on reporting from the Good Food Institute which tracked plant-based offerings on menus at major U.S. restaurant chains annually in 2017, 2018, and 2019. GFI's 2019 report found 58 of the largest U.S. restaurant chains had at least one plant-based item on the menu, compared to 55 in 2018. Additionally, chains already featuring alternative options, added even more.
As cited in articles and industry studies, Impossible or Beyond Meat options are regularly used by a substantial number of U.S. fast food and casual dining establishments, including:
Blaze Pizza
Burger King
California Pizza Kitchen
Carl's Junior
The Cheesecake Factory
Del Taco
Denny's
Dunkin'
Fatburger
Hardee's
Hard Rock Café
Little Caesar's
McDonald's
Panda Express
Pizza Hut
Qdoba
Red Robin
Sheetz
TGI Fridays
White Castle
And More ...
As more consumers from all walks of life seek meat alternatives, the plant-based trend extends beyond fast food and casual dining. The iconic NYC restaurant, Eleven Madison Park, that topped the 2017 World's 50 Best Restaurants, is now entirely plant based. Other fine dining establishments globally are also revamping menus and adding options. While chains are serving plant based alternatives in specific regions or nationwide, the greatest menu penetration is in New York City, followed by Los Angeles, and Portland, OR.
The Tastewise report also indicated that health and sustainability are the top two reasons why people are choosing alternative meat. While health is the #1 reason, sustainability is increasing faster in interest, up 58% year-over-year. Health-related reasons people are opting for meat alternatives include protein and fiber intake, concerns related to saturated fat and cholesterol, and for anti-aging. The report also notes that despite their desire to stray from meat, many consumers choosing to eat alternative meats still don't care to give up the social and sensory experience of eating real meat, revealing a market for alternatives that authentically replicate these experiences.
Plant-Based Meat Alternatives Include Options For…
Burgers
Nuggets, Tenders, and Cutlets
Sausages
Ground Meats
Patties
Plant-based alternatives to beef burgers make up the biggest category of alternative/vegan meats shipped to restaurants, followed by plant-based chicken and fish alternatives, two newer and smaller categories. However, McDonalds rolled out its new plant-based Chicken Tenders last summer at approximately 400 restaurants across the country which is a good indicator for the growing popularity of chicken alternatives.
It's Time to Stir Things Up with Plant-based Meals
If your customer base leans more toward the plant based food trend, for dietary reasons (vegans, vegetarians, other health and/or personal reasons) or to simply to expand their palates with something new, then consider adding meat alternatives as a permanent menu item or feature them in a specialty menu. If a smaller segment of customers appreciate plant based dishes, promote them as a specialty item or as LTOs, with table tents and/or menu inserts. And, if you're not sure how your customers will take to plant based dishes, then testing some as LTOs makes perfect sense!
Tap into this growing market and update your menus to stay in step with consumer demand. MenuWorks creates winning menus for restaurants of all sizes. To learn more about updating your menus, creating specialty menus, inserts, or appealing LTO table tanks (our sturdier version fo table tents), contact one of MenuWorks' experienced account managers. Be sure to This email address is being protected from spambots. You need JavaScript enabled to view it. of menus, inserts and table tanks for reference and inspiration. For convenient one-stop shopping, MenuWorks offers expert design services; ask for samples designed by our talented in-house team as well.