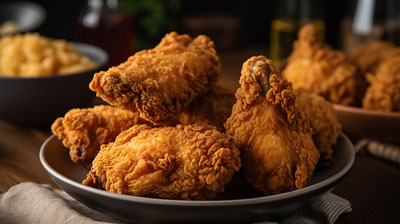 Comfort Classics with a Modern Twist
Who doesn't love comfort food? These soul-satisfying dishes have long served restaurants well. Today's foodies still crave these tried and true dishes but are looking for more. That's where modern twists on comfort classics come in, helping boost your bottom line while gaining a trend-friendly edge over the competition.
According to industry analysts, comfort food has seen a rise since the start of the pandemic. A study released in September 20201 noted 2 out of 3 Americans reverted to consuming more comfort food since the pandemic started, and 69% planned to continue enjoying the same amount of comfort food post-pandemic. Now that business is back to normal, it is no wonder modernized comfort food is gaining popularity on menus nationwide.
It's time to meet the wants of today's customers by refreshing and revamping your menu. Keeping up with current food trends, you can craft a "new" experience for patrons with steadfast favorites. Build on the familiarity and emotional connection of comfort foods. A fresh spin on mac n' cheese, fried chicken, spaghetti, mashed potatoes, French fries, and more create a hit with customers, resonating with their nostalgic views of these favorites. From updating the format (e.g. fried mac n' cheese balls) to enhancing flavor profiles with exotic spices and global-inspired sauces to creative ways to plate, you can successfully blend contemporary appeal with all-time favorites.
What's the Dish?
Below are some ways to take classic comfort foods to the next level. The possibilities are endless; savvy chefs can add their spin to create modern delights.
Spaghetti-going: Pass on traditional red sauce. Try more flavorful spaghetti toppers, like lemon, spices, pesto, or cheeses.
Mac Hacks: Cheesy goodness betters with a baked mac and cheese casserole blending Cheddar and Gruyère, Ramen mac n' cheese, or a grilled mac n' cheese sandwich with garlic and truffles.
Updated Dips: Spice your French fries with tasty dips like garlic aioli or truffle mayonnaise. Take a tip from French Canadians and whip up Poutine with gravy and cheese curds.
Tater-iffic: Parmesan sweet potato wedges, sour cream, cheddar-baked mashed potatoes, or a tater tot casserole with cheese, ground beef, veggies, and more elevates spuds to a new level.
Rib Remix: Spicy Southern-style BBQ pork ribs with Korean Gochujang sauce (a spicy, sweet, pasty sauce made with red chili pepper flakes, sticky rice, fermented soybeans, and salt) or whisking up ketchup, molasses, vinegar, hot sauce, chili powder, garlic powder, salt, and pepper for Sticky Molasses BBQ Ribs will rack up the compliments.
Pizza in a Bowl: Crust is not a must. Ingredients can be modified to make a keto-friendly, vegetarian, or vegan dish.
Promote, Promote, Promote.
Train waitstaff to inform guests of the enticing updates.
Add a promotional banner on your website.
Place table tents and signage to highlight your new takes.
Use social media and photos of your modern creations to spread the word.
Update take-out menus and third-party mobile platforms (Grubhub, DoorDash, Seamless, etc.) with your new comfort foods.
With any menu revamp, it's wise to review and revise pricing, remove less profitable items that don't move as quickly, and apply proven methods of menu optimization/engineering, strategically placing menu items on the page, adding sections and call-outs, highlighting dishes, and more.
Update your menu and satisfy customers with "new" feel-good faves. MenuWorks creates winning menus in attractive formats for restaurants of all sizes. Pop-in pages for coil-bound menus, specialty menus, and table tanks (our sturdier version of the classic table tent) can also be used to engage customers with your modernized comfort foods. Our durable laminated options are a breeze to clean and can include Microban® antimicrobial protection at no additional charge. To learn more about updating your menus and how we can provide turnkey services and expertise, including menu design and optimization, Contact one of MenuWorks' experienced account managers. Be sure to This email address is being protected from spambots. You need JavaScript enabled to view it. of menus, including ones created by our expert in-house design team, for reference and inspiration.
1 One Poll Study for Farm Rich