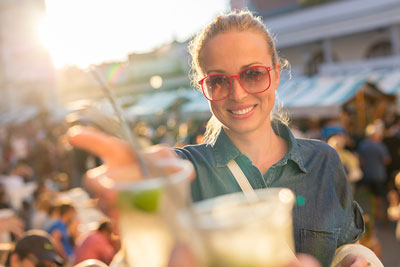 Food Tourism Makes Way for a Delicious & Profitable Summer
Tourists love to take in the sights, hit the beach, visit parks, cultural institutions, monuments, and dine in the areas they're visiting. Make sure you're ready for their business this summer and during busy holiday travel seasons. Whether you're located in an area known for food tourism (yes, it's a thing) or situated near a well-known beach, theme park, must-see landmark, seaside or resort community, or in a district known to attract tourists and more seasonal foot traffic, give the people what they want - local flair and good eats!
Did you know that 80 % of travelers research area food and drink options when they are traveling to a new destination? The World Food Travel Association (WFTA) notes this significant number and that 53% of these travelers consider themselves "culinary travelers." This means opportunity knocks in your area during popular travel periods. Below, let's look at ways to reach these hungry travelers and bring more business into your establishment.
Savvy Ways to Appeal to Tourists
Enhance your menu with a local flair to appeal to new patrons (as well please your regulars) in town this summer. Incorporate local culture, history, and local products, ingredients, spices, and flavor profiles known to your area.
Create dishes that reflect your city's history by using names of famous residents, monuments, and more to craft catchy names to bring more appeal to foodies hitting your area.
Feature Limited Time Offers (LTOs) that focus on locally inspired dishes and offerings – from appetizers to entrees to desserts and drink specials. Table tents should be utilized to drive more attention to them.
Craft a special summer menu with a hyper-local angle. Besides using locally sourced ingredients, be sure to feature local craft beers, wines, and more to add to the enjoyment of tourists dining with you.
Provide your menus and promotional materials to concierges at area hotels.
Partner with local attractions to send business their way and for them to send business to you – you can keep their materials near your register and can provide a spot for yours.
Call attention to the local food scene in your social media posts and post the different menu items you've created to attract tourists.
Update your website to feature your local dishes. This is great for search engine optimization and also provides those researching your area with information on what and where to eat – at your restaurant!
Food tourists, and most tourists in general, enjoy culinary experiences that incorporate the heritage of the area they visit. With more and more consumers gravitating towards shopping locally in the past decade, the desire of tourists to dine locally has grown. Food television programs even make it a point to highlight local areas and proprietors, such as Diners, Drive-ins & Dives on the Food Network. There are other shows featuring small towns and regions along with the cuisines they are best known for, plus the power of celebrity chefs on TV also drives business to locales.
Here's some more food for thought: Travelers spend approximately 25% of their budget on food and beverages, according to the WFTA, so positioning your establishment to appeal to them is vital to your summer and seasonal business. Food tourism not only helps area restaurants but also boosts the entire area's economy, bringing additional business to other local shops and more.
With a bit of planning and a dash of creativity, you can hone in on the tourists coming to your area. Let MenuWorks help craft attention-getting ways to present and promote your menu to tourists. To learn more about our turnkey services and expertise, including menu design, table tanks (our sturdier take on standard table tents), specialty menus, menu inserts, business cards, and more, Contact one of MenuWorks' experienced account managers. Be sure to This email address is being protected from spambots. You need JavaScript enabled to view it. of check presenters, including unique menus, inserts, and table tanks created by our expert in-house design team, for reference and inspiration.