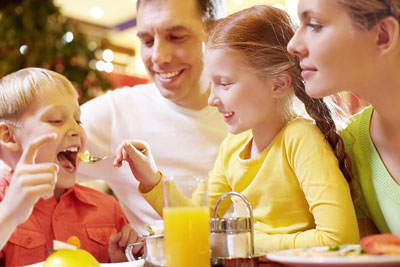 Celebrate Mother's Day & Father's Day with Appealing Menus
Mother's Day and Father's Day will soon be here. Now that families have returned to dining out after a significant dip due to the pandemic, make sure your restaurant is ready to meet their needs on mom and dad's red-letter days. Organize your menus now with special meals to celebrate the special people in your patron's lives to bring in the crowd -- and profits -- this May 14th and June 18th.
Holiday Dining Numbers are Getting Stronger
Pre-pandemic, 87 million U.S. adults planned to dine out for Mother's Day 2018 with nearly half going out to dinner and 59% split between brunch and lunch, according to research from the National Restaurant Association (NRA). Dining out numbers have been steadily increasing post-pandemic and accordingly, the NRA's 2023 State of the Restaurant Industry Report cites how consumers indicated restaurants would play a large role for Mother's Day 2022, with 48% planning to dine out for lunch. Building on 2022's numbers, 2023 Mother's Day and Father's Day celebrations will bring even more patrons back to dining establishments for these key family celebrations -- likely up to pre-pandemic numbers and potentially exceeding them.
Restaurant reservation app OpenTable's 2022 stats revealed that Mother's Day reservations were up 39% compared to 2019 and 13% compared to 2021, further indicating an increased return to family celebrations. While Father's Day may not be as busy as mom's big day, it's actually one of the busiest holidays for dining out, placing just behind Valentine's Day and Mother's Day, warranting restaurants to plan accordingly.
Creating Your Family Friendly Menu
Craft a holiday menu that has something for everyone. Include special main courses, kids' meals, and unique desserts worthy of a celebration. Create pop in pages for your coil bound menus, or menu inserts or small specialty menus to elevate the Mother's Day and Father's Day experience as you enable guests to easily order your well-planned and well-priced items. Focus on your most profitable favorites and limited time offers (LTOs) to give patrons more of what they want as you boost your bottom line.
Mother's Day and Father's Day offerings can encompass:
A special brunch, lunch and/or dinner menu providing an exclusive feel for the day
Prix fixe meals with multiple courses
Expanded buffet selections
Dessert specials with treats not typically featured on your regular menu
Take out/catering menu specials to appeal to those dining off-premises for their family celebrations
Incentives & Deals Have Big Appeal
The NRA's research also points to discounts and incentives being most appealing it consumers. Feature attractive bonuses or perks for Mother's Day and Father's Day to entice the family crowd. This can include handing out flowers or a small box of chocolates, or offering a free dessert or drink for Mom or Dad, and/or featuring discounts (perhaps secured by a reservation 2 or 3 weeks in advance of the holiday to give you an edge over other area restaurants).
Make the atmosphere feel like a celebration by dressing up your entry, hostess stand, bars, and table tops with plants, flowers, or holiday-centric centerpieces. Consider adding a fun backdrop near your entranceway featuring a spring-inspired design, incorporating your restaurant logo. This allows for family photo ops (as they come and go) that get your name out as pictures are posted on social media and shared with friends and family.
Ways to promote your successful celebrations:
Place table tents and signage at 3-4 weeks in advance
Have special menus and inserts ready a few weeks prior so guests can peruse the offerings
Add a banner or highlight box to the home page of your website informing online visitors of your special Mother's Day and Father's Day offerings – add a "Reserve Now" link, if appropriate
Post about your holiday specials, perks or discounts with appealing images on social media and be sure to email patrons on your email list
In the weeks before the holidays, have staff inform families dining at your restaurant about your upcoming Mother's Day and Father's Day celebrations
Plan now to make Mother's Day and Father's Day memorable for your customers and their families. MenuWorks creates winning menus in a wide array of attractive formats for restaurants of all sizes. Pop in pages for your coil bound menus and table tanks (our sturdier version of the classic table tent) make an attractive way to present your Mother's Day and Father's Day offerings, are a breeze to clean, and can include Microban® antimicrobial protection at no additional charge. To learn more about creating appealing holiday menus and how we can provide turnkey services and expertise, including menu design and optimization, contact one of MenuWorks' experienced account managers. Be sure to This email address is being protected from spambots. You need JavaScript enabled to view it. of specialty/holiday menus, including ones created by our expert in-house design team, for reference and inspiration.