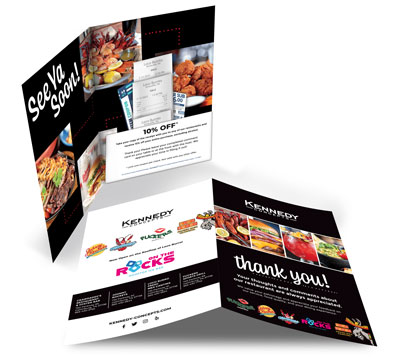 Check Please: Custom Check Presenters Are the Perfect End to A Meal
Custom Check Presenters are a savvy, captivating way for restaurants to keep the branding going after the end of a meal. These durable laminated and waterproof designs make colors, photos, and messaging pop and are easy to clean. Customized presenters are also an effective way to engage customers to join your loyalty program; add a QR code for guests to scan and sign up or include a short paper form inside with the check that your patrons can fill in.
Whether you're looking for a tasteful way to say "thanks" at the end of the dining experience, promote a return visit or upcoming special events, or want to entice customers to sign up for your loyalty program, continuing your branding and messaging before they head out the door with handy custom check presenters are an affordable option.
Printing on the front, back, and inner pocket flap offers many ways to appeal to customers. Best of all, this sleek, laminated look holds up to long-term use plus, at MenuWorks®, we can include Microban® antimicrobial protection at no additional charge.
A Budget-Friendly Solution
Laminated custom check presenters are far less expensive than vinyl or leather presenters or boring plastic check trays. Rather than using those impersonal credit card-branded presenters, you can now opt for a unique custom design that speaks to your customers, making their entire visit consistent with your brand. Our durable, waterproof check presenters provide a longer lifespan that makes your investment go further. You can even create new check presenters to pair with your menu redesigns or order seasonally to promote special events, new loyalty program perks, and other offers.
MenuWorks offers attractive check presentation solutions to end the meal on a positive, personal note. Let our team craft an outstanding way to promote your brand and say "thank you" in style -- your style. To learn more about our turnkey services and expertise, including check presenters, menu design, table tanks (our sturdier take on standard table tents), business cards, and more. Contact one of MenuWorks' experienced account managers and This email address is being protected from spambots. You need JavaScript enabled to view it. of check presenters, including unique pieces created by our expert in-house design team, for reference and inspiration.