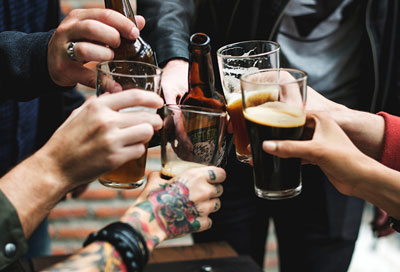 Tap Into Sales with Local Craft Beers
It's time to say cheers to craft beers! Widely popular in the United States, small craft breweries are attracting a plethora of loyal fans. Combined with consumers' increasing desire to shop small and shop local, savvy restaurants can now drink up the profits by featuring craft beers from area breweries. This allows your guests to enjoy the craft makers they know and love and discover new ones, as well as support the community. Plus, fans of local breweries will be delighted to pair their favorite quaffs with your food.
According to the Brewer's Association, a not-for-profit trade association promoting and protecting American craft brewers, their beers, and the community of brewing enthusiasts, a majority of Americans live within 10 miles of a craft brewery. This allows most restaurants to easily locate one or more craft makers in their area to stock their selections, along with the added perk of supporting another local business.
What Defines a Craft Brewery?
According to the Brewer's Association, an American craft brewer is a small and independent brewer producing 6 million barrels of beer or less (encompassing approximately 3% of U.S. annual beer sales). What makes them "Independent?" A majority of craft brewers are truly independently owned but some larger known brands have been buying into some craft makers in recent years to expand their reach into the popular craft beer market. Because of this, an alcohol beverage company that is not a craft brewer can only have less than 25% ownership or control of the craft brewery in order for the brewery to maintain independent status.
Other attributes of craft brewers are their innovative takes on classic beer styles and developing new ones, involvement within their communities through event sponsorship, product donations, volunteering, and other philanthropic efforts, and connecting with customers on a personal level. It's that strong local connection that brings recognition when you serve area craft brews at your establishment.
How to Incorporate Craft Beers on Your Menu
Identify area craft breweries. A simple web search can reveal local craft makers, or you can refer to Brewery Association's comprehensive online list. (Search "Only Independent Craft" and reference their Microbreweries, Brew Pubs, and Regional lists.)
Determine what selections work best with your dishes. Chat with brewery proprietors to discover what beers match your offerings. Don't forget to include holiday brews and any limited-edition beers to add a timely twist to your drink menu.
Create craft beer specialty menus. placemats and/or table tents. Make guests aware of the craft brews you offer. In addition to menus, table tents are the attention-getting way to highlight drink or happy hour specials and placemats offer a fun, interesting way to present drink options as they do double-duty on the tabletop. (Tip: MenuWorks' durable, easy-to-clean laminated placemats, coil-bound drink menus, and table tanks – our sturdy, superior table tents – offer effective options to promote craft offerings and more.)
Educate Your Servers. Pairing recommendations add even more appeal, so be sure to train your staff to make them knowledgeable in what beers compliment your menu offerings and include some pairings on happy hour or special drink night menus as well.
More Ways to Spread the Word: Use social media and happy hour promotions to get the word out. Be sure craft breweries include you on "Where to Find Us" web pages once you start purchasing their beer (in bottles, cans, and/or on tap if your location can accommodate this).
Raise a glass to area craft makers -- and enhance your restaurant's profits -- by offering guests more of the local flavor they're looking for.
Let us "craft" drink menus to capture your patrons' interest -- and dollars. MenuWorks creates winning menus in a wide array of attractive formats for restaurants of all sizes. Our laminated menus, placemats and table tanks are a breeze to clean and can include Microban® antimicrobial protection at no additional charge. To learn more about creating engaging craft beer menus and how we can provide turnkey services and expertise, including menu design and optimization, contact one of MenuWorks' experienced account managers. Be sure to This email address is being protected from spambots. You need JavaScript enabled to view it. of specialty drink menus, placemats, and table tanks, including ones created by our expert in-house design team, for reference and inspiration.