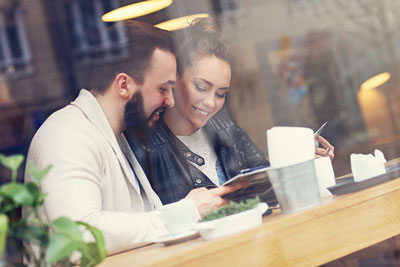 Print for Profits: Returning to "Real" Menus
With the events of the last few years, the use of neat, attractive print menus got sidelined. Now that business is rebounding closer to pre-pandemic levels, it's time to re-think, re-invent, and successfully position your establishment amidst your competitors…and that starts with creating a result-garnering menu.
Menus have always been the backbone (and competitive edge) of any restaurant business. Talk about lost in translation – what does that QR code, bland white paper sheet, or online menu do to enhance all you've put into creating a delectable selection of items for discerning customers who can opt to dine in or take out anywhere in your area?
It's time to get back to business with crisp color, graphics, and appealing images of your prized dishes! If the stalled business of the past two years has kept you from revamping your menus, then now's the time to move forward. Menu engineering (we call it optimization here at MenuWorks) is more essential than ever. Crafting a winning menu with a focus on your most profitable items and highly desired customer favorites is a MUST.
The What's & Whys of Your Successful Return to Printed Menus:
A Smart Return on Investment: Print Menus Boosts Sales

Digital menus aren't as cost-effective as one might think, requiring constant updates and maintenance along with special attention to be sure they view properly on mobile devices. Flimsy paper menus or sheets with QR codes to scan are unattractive, require constant replacement, and do nothing to enhance your image.

Laminated Durability Pays Off: Easy to Clean & Long Lasting

Printed menus can be ordered in bulk quantities, typically making them more cost-effective. Lamination makes them sturdy and super simple to clean for long-term use and can include built-in antimicrobial protection (such as Microban®, offered free of charge at MenuWorks) to inhibit stain and odor-causing bacteria. Laminated coil binders or sleeves allow you to pop in pages with holiday specials, limited-time offers (LTOs), price updates, and more, as needed – expanding your menu's useful life.

Ease of Use: Appealing Menus Right at Your Customers' Fingertips

Enticing photos pop from laminated pages and also help guests by taking some of the guesswork out of deciding what to order. They call attention to your best and most profitable sellers and work in tandem with organized sections, making desired dishes easier to find.

A Polished Image: Your Establishment's Unique Brand

Elevate your image and show off a more professional look with great-looking, well-designed menus including proper item placement and pricing formats. Proven psychological tips can present your offerings and costs in a more palatable way; then once you neatly integrate your logo, unique colors, graphics, and photos, you're sure to stand out from the competition.
Let MenuWorks help you meet the demands of 2023 and beyond with appealing menus that best engage your customers. We create winning menus in a wide array of attractive formats for restaurants of all sizes. Our laminated menus and table tanks (our sturdier version of the classic table tent) are a breeze to clean and can include Microban® antimicrobial protection at no additional charge, simplifying post-pandemic sanitization for you and your staff. To learn more about how we can provide turnkey services and expertise, including menu design and optimization, contact one of MenuWorks' experienced account managers. Be sure to This email address is being protected from spambots. You need JavaScript enabled to view it. of menus and specialty menus, including ones created by our expert in-house design team, for reference and inspiration.