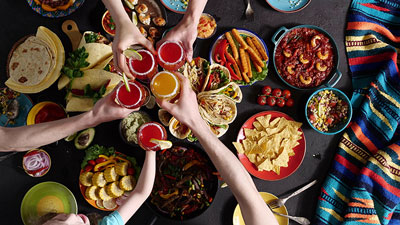 Celebrate your Cinco De Mayo Specials with Festive Menus & More
With May 5th just around the corner, it's time for restaurants to plan their festive day or week-long celebration of Cinco de Mayo. Make your offerings pop and celebrate in style! Whether you operate a Mexican restaurant or would like to feature timely offerings with a south-of-the-border flair, attractive menus, inserts, and table tents featuring Mexican dishes and/or drink specials will appeal to your customers.
A Brief History Lesson
Cinco de Mayo commemorates the day the Mexican army defeated the French in the Battle of Puebla in 1862. While most Mexicans celebrate Mexican Independence Day on September 16th (except the state of Puebla, which celebrates May 5th since the battle occurred), Cinco de Mayo is more widely celebrated in the United States. Americans love dining out on this day, taking in the lively atmosphere and enjoying flavorful fare and specialty drinks.
A Cinco de Mayo Favorite
A traditional dish passed down through the generations, some say Mole Poblano originated in the Mexican city of Puebla in the 17th century. Others trace its roots to pre-Hispanic Mexico (served in Aztec rituals with turkey). Nonetheless, it's been around for centuries and has become a signature dish for this fête. To some, it's also considered the national dish of Mexico.
The dark red-brown sauce made with chili peppers, bitter cocoa or chocolate, nuts, and spices - on average, up to 20 different ingredients -- is served with chicken. No Cinco de Mayo menu is complete without it. Add in other tasty Mexican staples, such as tacos (they're not just for Tuesdays!), burritos, tamales, and more, you can't go wrong! Naturally, Mexican establishments serve up these winning dishes year-round, so other types of restaurants must be sure to get their recipes just right before the big day.
Ways to Promote Your Cinco de Mayo Menu & Specials
Specialty menus featuring limited-time offers, special pricing, or pairing/course packages
Table tents, placed at least two weeks in advance, highlighting specials from appetizers to entrees to drinks and desserts
Menu inserts, like pop-in pages for your coil-bound menus
Signage posted in your establishment in April for customer awareness, so they can plan to be there
Email promotion, starting in mid-April
Social media, at least one week prior and up through the day, featuring enticing images of the food and drink you're serving
Get patrons through the door to enjoy all you have to offer this Cinco de Mayo! A little planning goes a long way, so start now to be sure to create a delicious celebration that reaps returns.
MenuWorks is ready to help capture your customers' interest with special Cinco de Mayo menus, pop-in pages, table tents, and more. We create winning menus in a wide array of attractive formats for restaurants of all sizes. Our laminated menus and table tanks (our sturdier version of the classic table tent) make images pop, are easy to clean, and can include Microban® antimicrobial protection at no additional charge. To learn more about how we can provide turnkey services and expertise, including menu design and optimization, contact one of MenuWorks' experienced account managers. Be sure to This email address is being protected from spambots. You need JavaScript enabled to view it. of menus and specialty menus, including ones created by our expert in-house design team, for reference and inspiration.