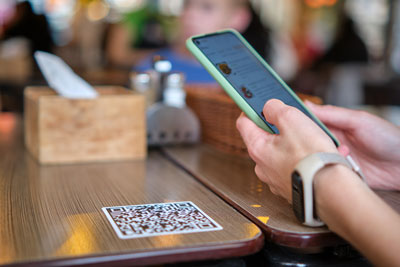 Scan or Scam? Cyber Crooks Can Easily Commandeer Restaurant QR Codes
During the pandemic, restaurants were pressed to find ways for a contactless experience for patrons to keep their businesses alive. Enter the use of the handy, formerly innocuous QR code. Diners and takeout customers were able to simply scan a code on a sheet of paper, menu, or table tank and see the entire menu, and even order and pay directly online. It was convenient enough and the use of QR codes has continued at many establishments that are now back to conducting business as in pre-pandemic times.
However, those handy QR codes that seemed like such a good idea, now bring a risky downside which can leave restaurant customers with a bad taste in their mouths…and their data breach. Cybercriminals have been found to replace legitimate QR codes with bogus codes redirecting the consumer with malicious intent. Anti-fishing and internet security companies noticed this and an FBI warning (featured on CNN and ABC News, among other major news sources in 2022) concurs with these findings. Criminals are relentless so attention must still be paid. The potential for theft of personal and financial data, ranging from passwords to charge card info and more is, unfortunately, still very real.
The FBI warning from the bureau's Internet Crime Complaint Center (IC3), alerts consumers that criminals have been tampering with QR codes -- such as ones more readily available at restaurants since Covid-19 -- to steal information and money. "A cybercriminal can swap out a completely innocuous legitimate QR code for one that directs people to a malicious site, and that malicious site may prompt someone to click a link and could potentially download malware onto their device," noted Dave Ring, section chief of the FBI's Cyber Division in an interview with ABC News.
Below are some ways consumers are falling victim when scanning imposter QR codes, according to the FBI:
A fake code brings unsuspecting consumers to an imposter phishing website trying to trick them into logging in, sharing passwords, and giving up personal and/or banking information.
Scanning the wrong QR code could give access criminals to track info from an individual's smartphone and even lock them out of the device, demanding payment to release it.
No restaurant operator should take for granted that their establishment is safe, so frequently check materials displaying your QR codes to confirm they are the original codes you created (scan them yourself to see where they redirect) and also see if any stickers are covering your original codes. If you think your establishment's QR code has been tampered with (besides customer complaints, perhaps something is amiss when it comes to receiving order payments), report it to the authorities immediately.
Now that life is moving forward more akin to what it was pre-pandemic and consumers have returned to more normal dining habits, it's time for restaurants to rethink their use of codes, especially since this poses a real risk to their patrons. Plus, it's time to get back to business with visually appealing menus that highlight your offerings, right at your customer's fingertips and not on a small phone screen. Longer-lasting, laminated menus are easy to clean (and make menu photos, graphics, colors, and logos pop!), and antimicrobial protection can be included right in the menu's substrate offering further protection from stains and odors.
MenuWorks is ready to craft safe menus for you and your customers. We create winning menus in a wide array of attractive formats for restaurants of all sizes. Our laminated menus and table tanks (our sturdier version of the classic table tent) are a breeze to clean and can include Microban® antimicrobial protection at no additional charge, simplifying post-pandemic sanitization for you and your staff. To learn more about how we can provide turnkey services and expertise, including menu design and optimization, contact one of MenuWorks' experienced account managers. Be sure to This email address is being protected from spambots. You need JavaScript enabled to view it. of menus and specialty menus, including ones created by our expert in-house design team, for reference and inspiration.