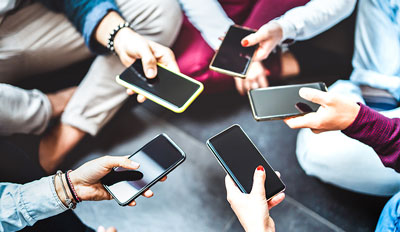 Restaurants: Spice Up Your Menu with G Z-Licious Selections
Today, we will look at how the younger generation lives and dines. We're talking about Generation Z. Studies show Gen Z isn't dining out as much as the generations before. The post-millennial market seeks value, is price-conscious, and prefers to craft dishes at home. Perhaps, the stay-at-home lifestyle prompted by the pandemic these last few years has fostered this. As this market gets a little older and seeks a different dining experience, restaurants should focus on getting them into their establishments or ordering meals to eat at home.
A recent study released by research firm NPD revealed diners ages 18 to 24 ordered from or at restaurants an average of 218 times between February 2021 and February 2022. This is a noticeable dip compared to Gen X consumers, who, at that same age in 2002 logged in 284 orders. Millennials ordered an average of 244 times each when they were that age.
This shift in orders means restaurants must work harder to capture Gen Z and transform them into long-term customers. Despite the decline in restaurant dining cited in the study, in terms of demographics, Gen Z is still the audience that will dine at restaurants most frequently in the years ahead, so you've got to capture their attention now and build on it. Below we explore some key considerations as you plan to draw Gen Z into your establishment.
Tips for Targeting Gen Z:
Appeal to their interests. Speaking to Gen Z's values is one way to capture their attention. The survey provides some insights to use as a guideline. Results indicated that 18% of Gen Z consumers care more about organic products compared to 12% of consumers over age 25. 16% of Gen Z care about sustainable sourcing, versus 11% of older consumers. 10% of Gen Z'ers value plant-based food options in comparison to 6% of older consumers. In recent years, sustainable, organic, and plant-based foods have experienced growth in the marketplace, and Gen Z leads in interest.
Devise new dishes this audience craves. The younger restaurant-goer is adventurous and desires to try new foods, enjoying limited edition options and new menu selections. This is a great way to test new dishes and global flavors.
Incorporate deals and special offers. In terms of value-conscious meals, per NPD's survey, 18 to 24-year-old consumers consider price to be the most important factor when choosing which restaurants, they'll try. To bring in more Gen Z traffic, restaurants should offer more deals that appeal to this group. Simple ways to Incorporate this are with daily and/or weekly specials and limited-time offers (LTOs).
Embrace technology. Besides menus, special inserts, and table tents that speak to their wants, you've also got to appeal to this generation's attachment to their devices. Smartphones are essential to their lives, so they naturally use them to order from restaurants. It's a must to make sure your website and online third-party menus (Seamless, GrubHub, DoorDash, etc.) all match up and include offerings and price points that speak to this audience. Super important: Your website must be mobile-friendly, and properly viewed on a smartphone. Are you planning a new menu? It's the perfect time to bring your website up to par.
Leverage Instagram. Gen Z loves their Insta so incorporate promotions on that platform. Also, consider adding fun contests for customers who post photos of themselves and/or your dishes (hash-tagged with #yourrestaurantname) while dining at home or at your establishment. Use your Instagram account to post images of new menu items and special offers that resonate with this group. Social media can be a powerful tool, especially with this generation.
We're here to help you engage Gen Z and beyond. MenuWorks creates winning menus in a wide array of attractive formats as well as mobile-friendly websites for restaurants of all sizes. To learn more about how we can provide turnkey services and expertise, including menu and web design engineered to appeal to Gen Z and more, contact one of MenuWorks' experienced account managers. Be sure to This email address is being protected from spambots. You need JavaScript enabled to view it. of menus plus website links, including ones created by our expert in-house design team, for reference and inspiration.