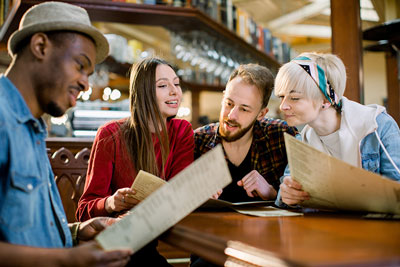 Menu Optimization: Engineering Persuasive & Appealing Menus
Menu engineering, or what we call "optimization", is the process of taking a deep dive into your menu, reviewing items, analyzing their performance, and crafting a design reflecting these findings. While it might seem like a lot of work, forethought and planning are essential to hone in on the profitability and popularity of menu items. This also includes psychologically compelling ways to present prices, and utilize headings, descriptions, callouts, boxes, graphics, colors, and photography – hence, creating your optimized menu!
The Psychology Behind Menu Design
With diners spending an average of 109 seconds perusing a menu, how you present your offerings is crucial. Besides optimizing menus using tried and true methodology that considers your most popular and profitable items, the psychology behind creative choices comes into play. When you factor in consumer behavior and effective placement, your new menu will more effectively guide customers to order. At MenuWorks, our experts utilize graphics, formatting, colors, and type treatments to make menus more appealing, and as a result, more successful. This also optimizes our clients' return on investment, helping menus pay for themselves.
The Power of Color. Color defines your menu and brand, and also affects what patrons order. Per the pros, green can be used to imply fresh foods, orange can stimulate the appetite, cheery yellow is an attention-getter, and red can inspire action, enticing guests to order dishes with your highest profit margins.
The Golden Triangle. Dubbed the "Golden Triangle" by psychologists analyzing how customers' eyes scan a menu, the center, top right corner, and top left corner of your menu are the three areas that get noticed first. Place selections you most wish to sell in these spots.
Organization & Negative Space. Sectioning your menu so guests can quickly locate items and categories they want, aids the ordering process and steer customers towards dishes you wish to sell more of. Studies show the top two items and the last item in each section are noticed and ordered more often than the others, so place your most profitable items at the top of the list and one at the bottom in each section. Including some space (a.k.a. negative space) also makes navigating your menu easier on the eyes. Keep the look neatly organized!
Presenting Costs & Currency. How you present a dollar amount makes a lot of sense! Never remind customers how much they're spending. Avoid dotted lines, known as price trails leading to the cost of an item, and avoid placing prices in columns, which lets customers more easily compare costs which can lead them to select a cheaper dish. Ditch dollar signs ($), simply noting 9.95. Speaking of which, ending pricing with .95 (not .99 – too gimmicky) versus rounding up is also good practice, making it look like a better deal. On the other hand, upscale establishments may opt for simple, sophisticated pricing, rounding up to $10, etc. Studies also indicate that people spend up to 30% more when prices are spelled out, i.e., twenty-five dollars.
Limit Selections. Too much is too much! An extensive menu packed with too many choices can work against you. Keep customers focused on items that are the most popular and the most profitable for you. Not everything needs to be on your main menu; slow sellers can lead to unused supplies going rotten in your inventory.
Don't Leave Dollars on the Table
While we're on the topic of new, optimized menus, let's talk about pricing: when was the last time you reviewed yours? Within the past six months, there has been an increase in market costs, staffing costs, and more. Before creating your new menu, examine current costs to make necessary pricing updates. Your new menu design will also capture customers' attention, taking the focus off of price increases.
MenuWorks' convenient ROI Calculator lets you see how even nominal price updates can benefit your business. (Simply fill in the orange fields, follow the prompts, and see the results) With modest price adjustments, your new menus will pay for themselves and help account for increased costs.
Update ALL Your Menus
Once you determine changes and increases, it's imperative that you update all your menus with consistent pricing and offerings. This includes specialty menus, paper take-out menus, as well as any online pricing (both on your website and delivery apps). Leaving one or more without updates will call out the increases to your customers.
Let us optimize your next menu for increased profitability. MenuWorks creates winning menus in a wide array of attractive formats for restaurants of all sizes. To learn more about how we can provide turnkey services and expertise, including menu design and optimization, contact one of MenuWorks' experienced account managers. Be sure to This email address is being protected from spambots. You need JavaScript enabled to view it. of menus and specialty menus, including ones created by our expert in-house design team, for reference and inspiration.