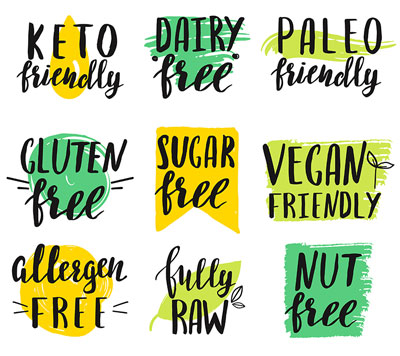 Trend-Friendly Options to Satisfy Customers
Keeping current with food trends is vital to meeting your customers' diets and wants. Now more than ever, diners are seeking healthier options, meat-free and vegan selections, dishes free from allergens, and/or meals that fit into their diet plans. So how can an establishment implement gluten-free, soy-free, nut-allergy friendly, vegan, Keto, and Paleo options on its menu? Let's explore the possibilities without breaking the bank or adding items to your menu before they're tried and true.
While fad diets come and go, there are still many key health issues and consistent diet and lifestyle choices driving customers' orders. Savvy restaurant owners must position themselves as diet-friendly to give patrons what they want, as well as benefit from the sales of new, desired menu items.
Before you overhaul and reprint your entire menu, read on to discover ways to try out special selections in trending categories to see what resonates most with your customers.
Testing the Waters
Pop-In Pages: Pop-ins pop securely in and out of the binding of your coil-bound menus. A convenient presentation for limited-time offers (LTOs), weekly specials, or new menu items in categories like Vegan, Keto, Gluten-Free, and more, you can try out new offerings without redoing your entire menu – making it easy to test them daily, weekly, monthly, or as LTOs. Once you discover what items are most popular, you can also use pop-ins to seamlessly add new categories and dishes to your current menu. Laminated to match the rest of your coil-bound menu, pop-ins are durable, waterproof, and a breeze to clean.
Inserts & Sleeves: Clear inserts and sleeves that neatly fit within your current menu also offer flexibility to test new items in trending categories, allowing you to simply slip in a printed sheet with LTOs to enhance your current menu. Additional perks: Sleeves and inserts are waterproof, easy to clean, and reusable.
Table Tents: MenuWorks' more durable option, fittingly named "Table Tanks," provide an attention-getting way to showcase your special offerings right on the tabletop. They're also a great way to promote a few new categories at a time to test out new menu items in each.
Tweak Current Menu Items for a Stop-Gap Measure
If you're due (or long overdue) for a menu update but aren't yet ready to commit to entire sections of trend-friendly categories, you can still appeal to consumers' dietary needs. If you have items that are gluten-free, vegetarian, vegan, etc. simply add a note to your new menu in parentheses after the dish name, i.e., Split Pea Soup (vegetarian, gluten-free), Flourless Chocolate Cake (gluten-free), and so on. A quick review with your chef can enable you to enhance your upcoming menu to help guide guests to selections that meet their needs. Once your menus are printed, you can still test out new items with inserts and table tanks showcasing LTOs and more.
Be the Restaurant Where Friends & Families Can Go to Order Something for Everyone
Once your customer interest and sales establish what trend-friendly offerings are the most successful, you can incorporate them into a special section (or two) in your new menus. Subheads like Gluten-Free, Keto Friendly, Vegan, and more will draw the eye and satisfy the needs of a broader audience. You don't have to provide dozens of options but 3 to 4+ well-done selections plus limited-time offers (LTOs) in each special category will speak to your customers' dietary needs and concerns – while trending, diet-inclusive options boost your sales.
Keeping up with food trends can be a bit challenging but testing dishes to see what works will help guide you to new menu mainstays. (And, despite the seemingly endless stream of dietary concerns and lifestyle diets, homemade dishes like grandma used to make, nostalgic items, and comfort foods are still appreciated by a broad audience!)
Keep up with popular and profitable food trends! MenuWorks creates winning menus, inserts, pop-in pages, and table tanks for restaurants of all sizes. To learn more about how we can provide turnkey services and expertise, including menu design and expert insights, contact one of MenuWorks' experienced account managers. Be sure to This email address is being protected from spambots. You need JavaScript enabled to view it. of inserts, table tanks, and pop-in pages, and specialty menus, including ones created by our expert in-house design team, for reference and inspiration.