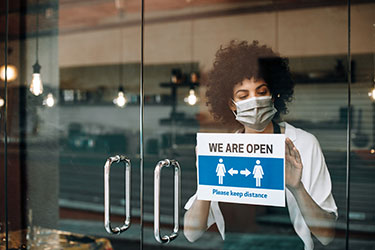 Take Steps to Increase Customer Confidence
As restaurants reopen, expand capacity, and look to increase profitability as they weather the pandemic, measures must be taken to instill the confidence of patrons. While diners have always had a choice of where to spend their dollars, the competition heats up in the still-evolving new normal. Now is the time to gain your customers' confidence which means alerting them to all you are doing to implement and maintain safety protocols at your location(s).
First, let's look at the numbers to get an idea of where customers stand. In 2020, research firm Datassential surveyed consumers for its recently released Coronavirus Traffic Brief. The study reveals findings which offer a more positive outlook for the months ahead.

Approximately 1 in 3 consumers purchased food from a restaurant the prior day*. In December 2020, this figure was 35%, up from 30% in March. (*Compared to the pre-pandemic rate of 50%)

Limited Service Restaurants drew nearly two-thirds of traffic. However, despite dining room closures, Full Service Restaurants accounted for over one-third of the traffic.

Chains are the popular choice among consumers, with independent restaurants making a comeback. In March 2020, chains drew 75% of traffic, however, in December, this figure slipped to 67%, with independents increasing to 33%.

When polled on whether consumers felt safe getting food from a restaurant, the response was encouraging. In March 2020, 53% felt very safe; while that figure rose to 67% in December.

In December, the outlook varied when consumers addressed when it would feel safe to dine indoors again. Over half of the responses fell within 2-3 months (10%), 4-6 months (16%), and more than 6 months (28%). However, just 9% surveyed felt restaurants would not feel as safe as they did pre-pandemic.
Based on 2020's consumer confidence levels and the need to build confidence in the months ahead, taking necessary measures and promoting the safety of your dining establishment is essential.
Easy to Implement Steps to Instill Customer Confidence & Safety:
Require all employees to wear masks and gloves. This immediately shows patrons you are taking steps to prevent exposure and that you take dining out safety seriously. Continue to inform staff that if they have symptoms or feel sick, they must stay home to avoid contact with other employees, guests, and food. This includes providing protective gear for employees who bus tables, wash dishes, clean restrooms, or take out trash to prevent exposure from items used by customers.
Place hand sanitizer/sanitizing stations where guests and employees can easily access them. Prominent placement encourages use by all, so include them near your entrances/exits, restrooms, register/host stations, and perhaps, on bars, dining counters, and individual tables.
Stay on top of cleaning and disinfecting tasks before, during, and after operating hours. Equip your establishment with durable, easy to maintain menus that stand up to repeated use and cleanings. Waterproof laminated menus1 are top performers and can handle regular cleaning and disinfecting in between uses, now more critical than ever. Laminated menus with Microban®2 integrated directly into the surface are another option as they inhibit the growth and spread of bacteria that can cause stains and odors, are waterproof, and withstand repeated cleaning and sanitizing as well.
In addition to cleaning menus, instruct your staff to clean and disinfect all public-facing surfaces (tabletops, counters, table tents, highchairs, etc.), dishware, silverware, pitchers, creamers, shakers, and other dispensers after each use. Regularly schedule cleaning tasks during all shifts; inside your kitchen as well. Visit EPA.gov to find EPA-approved cleaning products that meet state and federal health department standards. Make certain all products are used appropriately to ensure the safety of your staff and guests.
Place informational signage in your entryway and/or waiting areas, as well as on tables. Provide an overview of the steps your establishment has taken and also encourage guests to take part in keeping the dining experience safe and enjoyable for all. This can include noting that masks are required when leaving the table to step outside, visit the restroom, pay at the register (if applicable), and walking through waiting and dining areas where other guests may be.
Take measures to manage the foot traffic in your establishment to limit guests' contact with other guests and your employees. Utilize all public entrances and exits to be able guide guests to their table while avoiding close contact with other patrons and your staff. Utilize signage, floor decals, and more to provide distancing and directional instructions to keep the flow as smooth as possible. Additionally, keep pickup and takeout areas separate from your dining areas. If you haven't done so already, consider implementing contactless pickup using payment online or by phone and deliver prepared orders directly to your patrons' cars as they come to retrieve them.
Add or expand outdoor dining area(s). Customers enjoy and respond well to outdoor dining options. Distance tables 6 or more feet to give your guests ample space and peace of mind.
Be prepared to answer guests' questions about your restaurant's Covid-19 safety measures. Develop well thought out responses and make sure your staff is versed in addressing customer concerns with an accurate, consistent message. Let staff know that it's fine to call over a manager or owner for assistance. Share this information on your web site and on social media to keep customers aware that you are addressing their safety concerns.
MenuWorks is ready to help as your business reboots with our durable selection of menus that stand up to all the cleaning and disinfecting necessary to keep customers safe and happy. If your restaurant or chain is in need of sturdy, easy-to-clean waterproof antimicrobial or laminated menus and table tents (or is updating prices and offerings to reflect the new normal), contact one of MenuWorks' experienced account managers to request a sample pack of products in assorted styles and sizes for reference and inspiration. MenuWorks also offers expert design services for convenient one-stop shopping, so be sure to ask for samples designed by our talented in-house team as well.
---