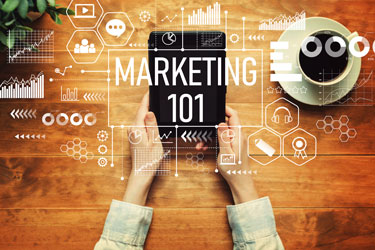 Restaurant Marketing 101:
Promotion Essentials
Marketing has always been important to the growth and survival of restaurants, from single mom and pop establishments to chains, but now more than ever, promoting your business is essential as U.S. consumers and businesses have adapted to a new way of life. Regardless of your restaurant's current restrictions, it's important to get your message out there – that you're open, implementing new procedures, and fully prepared to meet the needs of hungry customers dining at your location or taking out. And, in doing so, it's vital to not overlook some very basic marketing elements.
Put Your Best Face Forward
Does your window, signage, and/or awning clearly enable people to notice your location and quickly recognize your theme/cuisine? Make sure you stand out and don't get lost amidst other businesses (say, in a strip mall), parking lots (where your location may be set back), sparse locations (where people may not expect to see a restaurant), or busy intersections (where there's a lot going in). Additionally, make sure the lighting in your parking lot and in front of your restaurant is optimal so that you are not missed.
Make the Most of Your Menus
A well-designed menu will always help maximize orders so be sure your menus are easy for customers to scan and order from. Additionally, by applying the principles of menu engineering – determining what your most profitable and/or easy to make items are and placing them in a prominent position – you can help direct customers to order them. Appetizing (and realistic!) photos of your offerings also lead customers to their decision on what to order. Having no photo is better than having a poor quality photo, and, any photos should resemble the plate your guest will have in front so as not to disappoint their expectations. Knowing your customers is also key! For example, if you have families dining at your establishment, provide an enticing children's menu; if your customers enjoy a good cocktail, offer drink specials and pairing suggestions.
Paper to-go menus are also an essential part of your continued business (especially today, in the Covid-19 business environment.) While your to-go menu can be a more simplified version of your regular menu, it should capture the spirit of your brand or theme, be designed to optimize profits, and be easy for customers to use as well. Print your to-go menus in tandem with your inhouse menu creation or redesign to provide a seamless ordering experience with correct items and pricing for customers dining in or out.
Table Tanks Provide Added "Real Estate" that Pays Off
Table Tanks are true marketing gold when used properly. This additional "real estate" allows for an opportunity to highlight restaurant promotions while increasing revenue. Running an LTO? Offering weekly specials or a loyalty program? Put these items in front of your customers while they are making purchasing decisions and watch your average check climb.
In today's Covid-19 world, you can also utilize Table Tanks for displaying QR Codes that link to electronic menus or for closing/reserving tables as needed.
Offer a Consistent Image
Proper branding is a key to your success! Make sure your establishment's current logo (and any tagline) matches everywhere – from menus to table tents to paper to-go menus, signage, emails, and more. Nowadays, you can even customize staff masks with your logo as well, letting customers know you're adhering to health recommendations with style. The way you train staff to greet and interact with guests and/or offer specials and menu details along with little touches that go the extra mile (i.e., branded napkins, free soda or coffee refills, etc.), will enhance your image in the eyes of your customers further still. People can go anywhere to dine, help them make their decision easy with the way you treat them and little perks.
Create a Loyalty Program that Pays Off
Speaking of perks, creating and promoting loyalty programs can add to your bottom line. If you've never instituted a program before, now is the perfect time to get started. Promote and reward the loyalty of your customers and keep them coming back. Get them in the door (or in your outdoor seating area) by being proactive with meaningful rewards including two-fers, free beverages or desserts with purchase, buy one get one half off deals and more. Use customer data on file to send cards in the mail or hand them out to customers. A branded plastic membership card offers a substantial look for cardholder, instilling value with a VIP feel. It should include brief bullet points with exclusive member benefits to keep customers coming back. Plus, having a card on hand in their wallet provides your customer with constant a reminder of your establishment.
Get Involved with Your Community.
Getting involved with community groups and causes always offers positive exposure -- especially in today's challenging world. Send some meals or treats to a local hospital for good will. Have a local heroes night or honor a local charity and perhaps donate a meal for every meal served or a portion of profits to aid a cause. Get the word out to local media when you are doing this. It helps to support the cause and also gets your name out as a business that cares and is helping make a difference.
If your restaurant is looking to update its marketing efforts with well-designed, optimized menus, eye-catching table tents, and a winning customer loyalty program, This email address is being protected from spambots. You need JavaScript enabled to view it. one of MenuWorks' experienced account managers for more ideas and to receive a sample pack of menus, table tents, and loyalty cards in various styles and sizes for reference and inspiration. MenuWorks also offers expert design services for convenient one-stop shopping, so be sure to ask for samples designed by our talented in-house team.