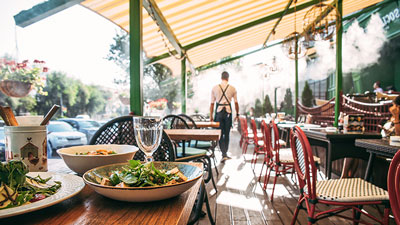 Durable Waterproof Menus are A Must For Outdoor Dining
Dining al fresco is here to stay. Not only do area visitors enjoy outdoor dining experiences while vacationing and taking in the sights, but it has also become the norm as a result of the pandemic. Whatever reason your establishment features this always-welcome, customer-friendly option, one thing is clear: sturdy, waterproof menus are essential. Laminated waterproof menus not only look great but provide optimal performance!
Menus designed to stand up to outside elements and repeated use save restaurants money with their longer lifespan. Waterproof menus are a breeze to clean and can be fabricated using synthetic paper that prints crisp, clean, and finished with a gloss or matte laminate. Further enhancing the look, these menus can print with a full bleed (right to the edges) and include smooth, rounded flush-cut edges, delivering a sleek, sealed look. As a bonus, all of MenuWorks' weather-tough, matte laminated products feature Microban® incorporated right into the menu substrate for added antimicrobial protection that inhibits bacterial growth, stains, and odors, at no extra charge.
Versatile, Waterproof Options for Every Restaurant
Coil-Bound Menus
Waterproof coil-bound menus are popular for casual dining establishments and chains. Designed with a durable plastic coil binding for longer wear, these versatile, long-lasting waterproof menus can be gloss or matte laminated. Available in assorted sizes, coil-bound menus feature an eye-catching cover to showcase your brand. The coil easily accommodates multiple pages for larger menus and enables restaurants to utilize pop-in pages (that snap right into the coil) to add seasonal, daily, or monthly specials and other limited-time offers. Coil-bound menus are waterproof inside and out, cover to cover, with all pages crafted with rounded corners for easy cleaning.
Flat Menus
Waterproof flats are a durable, sensible upgrade to old-fashioned paper menus. Besides sporting a cleaner, more professional look for your restaurant, the neat laminated designs enhance colors and make your menu item photos pop. Like our other laminated menu designs, flat menus are available in a variety of sizes, can be custom-dye-cut for unique shapes, come in gloss or matte finish, and are waterproof with rounded corners for easy, water-tight cleaning.
Folded Menus
For those with more extensive menus or serving multiple meals such as breakfast, lunch, and/or dinner daily, attractive bi-fold and tri-fold menus are a smart upgrade to traditional paper menus. Colors and photos pop from the crisp, clean waterproof laminated finish, complete with rounded corners for hassle-free repeated cleaning. Choose gloss or matte laminate in various sizes, including MenuWorks' outstanding, attention-getting Ginormica Tri-fold Menus, or custom dye-cut menus.
Waterproof Menu Covers & Sleeves
Many establishments have seasonal menus that regularly adapt to the market, so MenuWorks features waterproof café covers that create a more stylish, contemporary image while providing added durability against the elements. For even more versatility, we offer the option to incorporate waterproof, washable panels into covers, plus laminated vinyl sleeve inserts to protect paper inserts, enabling price updates and more. These options give restaurant operators who rely on market pricing the most flexible, effective menu they need. Waterproof sleeves are also available as pop-ins for coil-bound menus so special menu items are easily updated, with durability and ease of cleaning.
Waterproof Table Tents
Don't forget these must-haves! Here at MenuWorks, we call them Table Tanks because our fabrication is extra sturdy. Sitting outside on bars and tabletops in all types of weather requires a waterproof, super durable option for your special promotions, LTOs, drink menus, desserts, and more.
Now's the time to switch to durable, sleek menus that work, rain or shine! MenuWorks creates winning, waterproof menus and table tanks for restaurants of all sizes, plus includes Microban® antimicrobial protection at no additional charge. To learn more about our laminated waterproof menu options and how we can provide turnkey services and expertise, including menu design and expert insights, contact one of MenuWorks' experienced account managers. Be sure to This email address is being protected from spambots. You need JavaScript enabled to view it. of our high-performing menus and table tanks for reference and inspiration, including ones our expert in-house design team created.