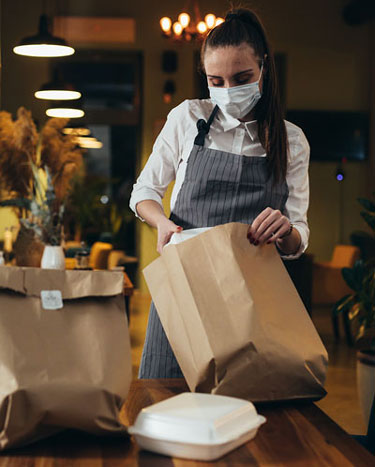 'Tis the Season to Boost Sales with Restaurant To-Go Holiday Meals
The holidays have always been a great time for restaurant owners to plan a seasonal array of enticing meals for their patrons. In addition to filling tables with holiday reservations, with a little advance planning, restaurants can develop another revenue stream by featuring to-go holiday meals. These days, it's more relevant -- and profitable -- than ever to focus on to-go holiday selections, promoting them in advance for maximum exposure.
With more families and individuals staying home for the holidays and hosting gatherings of their own, to-go meals offer them a highly appealing, stress-free way to celebrate with family and friends. Delicious to-go offerings from your establishment are the perfect option for those planning at home fêtes. And, it's the time of year that consumers are willing to pay more for convenience and special menu items.
We've summarized key actions below to help restaurants of all sizes make plans for the holidays.
Strategize in Advance
Plan and price out your holiday to-go menu.
Devise any special promotional offers for your holiday to-go meals – such as a free pie with orders over $200, etc. (See the next section below for more ideas.)
Include time to take photos, print menus, table tents, and signs and place them in your establishment 4-6 weeks in advance to get diners thinking about their holiday plans.
Educate your staff on holiday selections so when guests ask about something they see on a table tent or menu insert, they'll get a knowledgeable and enthusiastic response that encourages their purchase.
Use Compelling, Informative Words & Phrases
Diner for #. Specify whether meals feed 4, 8, 12 or more guests and create a few options at different levels and price points so customers can decide what works best for them.
Ready to Serve. Include whether you will use nicer platters that can go right on the table, provide festive plates, holiday napkins, and/or silver or gold plastic utensils, etc. for breezy clean up.
Heat & Eat. Well worth mentioning -- after all, to-go meals for the holidays are all about ease!
Homemade. While this is a patron-friendly word year-round, meals utilizing tried and true traditional recipes evoke a warm, holiday feel that elevates your to-go menu to something special with dishes akin to what your customers (or their mothers or grandmothers) might make at home.
Family Friendly Names. If you're using recipes handed down through your family (or your chef's), take "homemade" a step further with names like Grandma's Secret Recipe Honey Baked Ham, Aunt Emma's Apple Pie, etc.
Special Offer. Incorporating a time-sensitive or special offer can make to-go meals even more enticing. Consider free beverages or holiday decorations with purchases over a certain dollar threshold or with a meal for 8 or 12, and other fun bonuses to make the holidays merrier.
Ways to Engage Patrons
Pop-in-pages beautifully showcase holiday meals and easily snap right into your wire-bound menus.
Special flat menus inserted into your main menu will get patrons thinking in advance. (Don't forget to add festive touches to the design!)
Table Tents will capture the eyes -- and taste buds -- of guests dining-in in during the weeks leading up to the holidays.
Signage placed near the register or on your windows offer added support to other promotional efforts.
Utilize your email list and social media to promote holiday to-go offerings for enhanced exposure.
Make your holiday plans now! MenuWorks offers an array of options to promote your holiday meals to-go offerings. To learn about how to effectively utilize pop-in pages, special menus, table tanks, and more, contact one of MenuWorks' experienced account managers to This email address is being protected from spambots. You need JavaScript enabled to view it.of holiday to-go menu ideas for reference and inspiration. For convenient one-stop shopping, MenuWorks offers expert design services; be sure to ask for samples designed by our talented in-house team as well.