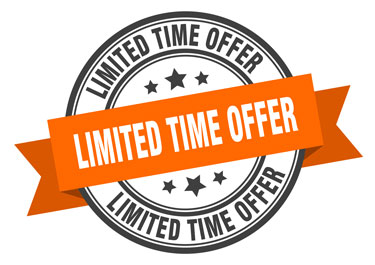 LTOs Add Urgency, Excitement, & Help Boost Profits
With increased costs due to supply chain shortages and higher staff wages, Limited Time Offers (LTOs) make more sense than ever, benefiting restaurants of all sizes.
To avoid raising prices on expensive menu items not consistently ordered, LTOs enable you to increase revenue by offering pricier dishes on a revolving basis. LTOs can boost profits by creating excitement with time-sensitive offers on special dishes patrons are willing to spend more on. They also attract new customers and reward current patrons through special promotions and/or discounts.
According to Restaurant Business, besides devising a winning LTO concept, industry pros recommend elements of novelty and freshness, appealing photos, using unique ingredients or a typical recipe in a different way, and setting the right, affordable price. The best LTOs create urgency with exclusive offers and stir excitement to drive business to your establishment.
"There's no proven formula for a successful LTO. It boils down to creativity, hard work, and perfect timing," notes Finances Online, citing 2021-2022 restaurant trends. With advance planning, you can develop a strategy for increased profits at key points of the year.
Plan Ahead
Schedule LTOs on a quarterly basis. Include time to take photos and to design and print special menus, menu inserts, pop-in pages, table tents, mailers, and signage.
Creativity counts. Devise appealing names that clearly convey dishes are offered for a limited time (i.e., March Madness Menu, Mother's Day Meatloaf, etc.)
Set start and end dates for marketing. Schedule any mailings, emails, and social media posts, and include time to have table tents, menu inserts, and signs in place leading up to your LTO.
Begin advertising no later than 30 days prior to your LTO's launch. Set a mailing deadline for postcards, schedule any newspaper ads, and utilize social media for added coverage with enticing photos and punchy text.
Engage your staff. Schedule sampling and training time so waitstaff can properly talk up your LTOs.
LTO Options are Limitless
Seasonal Dishes. Besides traditional holidays (Thanksgiving, Christmas, etc.), embrace all four seasons and promote LTOs with seasonal ingredients. We can all learn a thing or two from fall's pumpkin spice craze! From summer frozen drinks and desserts to winter soups and stews, craft your own fresh takes year-round. Try expanding LTOs to monthly celebrations of holidays like Valentine's Day, i.e., serving Hearts on Fire Chili or other aptly named dishes, romantically named cocktails or love-themed desserts, all February long.
Local Tie-ins. Celebrate area teams and events with LTOs. Salute the high school's basketball team with a Bruins Burger. The town's Strawberry Festival can inspire strawberry infused cocktails or desserts.
Global Takes. LTOs are a smart way to expand patrons' palates with tasty, exotic new flavors beyond Taco Tuesday!
New Twists on Faves. Build on customer favorites with LTOs featuring them in new ways. If you're known for your awesome meatloaf, brisket, or shrimp use them in special recipes.
Delivery-Only Offers. Delivery exclusives can help lift sales, especially during colder months. LTOs also help expand your presence on delivery apps to increase your delivery customer base and also instills brand awareness for on-site dining.
Health-Conscious Meals. Test healthy dishes with LTOs to gage their appeal. Whether you opt to expand your menu or continue with healthy LTOs, try this savvy way to discover which healthier options pique customers' interest.
Ways to Promote LTOs & Engage Patrons
Pop-in Pages: Inserted in your main menu, pop-ins draw attention to LTOs and can be die-cut with curves and more for added appeal.
Flat Menus: A separate flat menu with LTOs slipped inside your regular menu is sure to be noticed.
Oversized Menus: Make a big impression with a large, standout presentation for seasonal or monthly LTOs.
Table Tanks (aka Tents): Using delicious images of main courses, appetizers, desserts, and/or cocktails, engage patrons with LTO table tanks.
Plastic Postcards: Plastic mailers with perf-out coupons can promote monthly, seasonal, or quarterly LTOs. Whether you offer LTOs exclusively with coupons promoting discounts, BOGOs, a free drink, or other perks or simply specially price offers, plastic postcards command attention, helping boost revenue during slower periods.
Stir excitement with LTOs! MenuWorks offers an array of options to promote your LTOs. To learn about pop-in pages, especially sized menus, table tanks, plastic mailers, and more, contact one of MenuWorks' experienced account managers to This email address is being protected from spambots. You need JavaScript enabled to view it. of LTO inserts, menus, and more in assorted styles and sizes for reference and inspiration. For convenient one-stop shopping, MenuWorks offers expert design services; be sure to ask for samples designed by our talented in-house team as well.