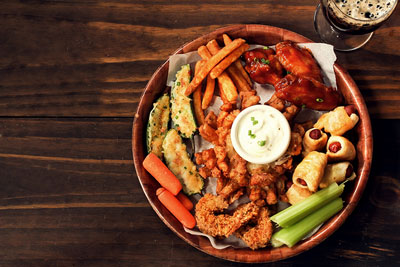 Appetizers Make a Tasty Introduction & Boost Guest Checks!
Creating thousands of menus throughout the years, the MenuWorks team has seen some interesting, delicious, and profitable appetizer selections. Inspired by these delectable offerings, let's dish out why it's good business to include a variety of enticing appetizers on your menu.
The more you appeal to your customers, the more likely they'll start with an appetizer. According to a MenuTrends survey from food and beverage market intelligence provider Datassential, 39% of customers order appetizers, and about 30% order small plates on all or most restaurant visits. With consumers dining out more post-pandemic, there's no better time to revamp or expand your restaurant's appetizer offerings.
Appetizing Options
Research reveals new items, as well as time-tested mainstays, are trending. Fried cheese is the #1 most popular fried appetizer. Research firm Technomic's 2019 and 2018 data indicates that over the last 40 years, fried cheese had a 75% increase in consumption. Considering Americans' continued love of comfort foods, that certainly makes sense.
The National Restaurant Association's 2023 culinary trends report cites charcuterie boards as the top-ranked appetizer of the year. Not only do boards help promote sales of wines and craft beers that pair well with them, depending on where sourced, charcuterie boards also appeal as farm-to-table offerings to consumers who enjoy fresh, local touches. The NRA report rounds out their top 3 appetizers with cauliflower and elote (Mexican street corn; grilled corn on the cob dressed in mayo cream sauce, garnished with chili powder, cheese, and lime).
Leading foodservice distributor, US Foods also compiled its list of trending appetizers, among them: street tacos, octopus, cauliflower (again, a noticeable trend), vegan offerings (using plant-based "meats"), Middle Eastern and Asian-inspired appetizers (featured at non-ethnic restaurants), and a longtime favorite, wings.
Added Ways to Incorporate Appetizers & Increase Guest Checks
Appetizers need not remain as a starter or side. With some creativity, spice up your entrees by cleverly utilizing appetizers as toppings on sandwiches (boosting prices to reflect the tasty upgrade) and place them as a delicious garnish on other menu items and cocktails (i.e., Bloody Marys can be garnished with bacon, baked potatoes, fried pickles, or shrimp.) You can also create "flights" featuring multiple appetizers for bar, patio, and late-night menus. A January 2019 study from Technomic notes restaurants can "expect double the profit when an appetizer is used across the menu."
Best Practices to Promote Your Appetizers
Special Menu Section. Call out appetizers on a not-to-be-missed area of your menu using boxes, color, images, and specific placement, utilizing the result-garnering rules of menu optimization.
Special Menu Section. Call out appetizers on a not-to-be-missed area of your menu using boxes, color, images, and specific placement, utilizing the result-garnering rules of menu optimization.
Specialty Menus. Showcase appetizers on a stand-alone menu or in highlighted sections on late-night menus, bar menus, happy hour menus, and more.
Table Tents. Table Tanks (MenuWorks' sturdier, superior version of the classic table tent) immediately draw hungry guests' eyes to appetizers, right when they sit down.
Staff Training. Instruct waitstaff to offer appetizers before taking orders.
Social Media. Post enticing photos of new and popular appetizers.
Engage your customers with tasty, profitable appetizers. MenuWorks creates winning menus in attractive formats, plus pop-in pages, inserts, and table tanks for restaurants of all sizes. Showcase appetizers and more with our durable laminated options that are easy to clean and can include Microban® antimicrobial protection at no additional charge. To learn more about successfully presenting and promoting your appetizers and how our turnkey services, menu design, and optimization expertise can help, Contact one of MenuWorks' experienced account managers. We'll send a sample pack of menus, inserts, and table tanks for reference and inspiration.